Atlanta has so much going on over Labor Day weekend, and chances are if you're interested in something, you can find a thing for it. I spent Friday hanging out with out-of-town friends at Dragon*Con, and yesterday afternoon was reservewd for the Decatur Book Festival. Since I blogged about last year's festival, it seemed appropriate to blog this year's as well.
Like last year, there was one thing in particular I really wanted to see. This time it was John Scalzi's Lock In book launch. Since it wasn't until 4:15pm and I live nearby, I piddled around at home during the morning, fixed lunch at home, and headed over after lunch.
I got there before 1pm, which gave me plenty of time to wander around, explore booths, and do things before the book launch. On the train I kept telling myself, "Hey. Sushi. You need to go to the ATM when you get off the train because most folks won't take credit here." But did I do that? No, of course not, because why would I?
Which meant the first place I went to after arriving in Decatur was the library's cash-only used book sale. Oops. I did grab a couple of books at the book sale and then realized I had no cash to pay for them. Whoops. I asked the volunteers if they could hold the books for five minutes while I ran to an ATM. Luckily I knew exactly where one was (and the one for my bank, at that).
I also ran into exSquared's BFF. We seem to run into each other about once a year. Haven't run into exSquared himself, though a friend of mine has. Luckily I got away from that potential awkwardness by my trip to the ATM. But I bought the books for a buck each and then wandered around the rest of the festival.
Some highlights:
There was one group trying to cover all the Decatur sidewalks with a thousand haikus, and would I like to write one? Why, of course I would.
Here's the haiku.
This could be a book!
Only you can tell your tale.
Write your story now.
The folks at the haiku station loved it, and there's probably a pic of me with the haiku floating around their Instagram somewhere.
I continued my wandering and ran into a local improv group giving improv advice from dead authors.
I asked an improvised Emily Dickinson for editing advice, and she advised me to kill my darlings. Kill small things in my everyday life. Make changes to things in my everyday life. You know, oh never mind, I wanted to do this instead. The improvised Emily Bronte seconded this advice.
I also worked a decent chunk of one of the crosswords the festival had on display, coming by in the beginning and filling out a few, then coming back when it was almost complete and filling in most of the remaining ones.
There was an eight-year-old sharing a booth with her mom. The kid was selling a book she wrote and illustrated. So cool! She wasn't very chatty, though–she was working on her second book! We could all strive to be as motivated as she is.
A little more looking around, and I was ready for the book launch. It was a good thing I double-checked the time since it started an hour earlier than I remembered.
Since I had an hour to kill before the Scalzi book launch started (and because it was hot as balls outside), I went ahead and headed toward the venue and just sat in the AC before the event setup started. I bought Scalzi's new book and stood outside the gym door, reading and talking to some of the other folks before we were allowed in.
One of the folks I talked to and I sat together in the second row, right in front of the stage. There were two empty seats in front of us, but we didn't want to take them immediately. What if the people on the sides of those seats were taking them? After a few minutes of those seats remaining empty, I asked them if they were saving the seats. They weren't. Score. We moved on up. I talked to some of the other folks around me, including a senior creative writing major at my alma mater.
And then the DBF staff person came up and introduced the introducer, who introduced Scalzi. While this was happening, Scalzi took a photo of the crowd.
The Decatur crowd. Hello! pic.twitter.com/3oGNjngM3A

— John Scalzi (@scalzi) August 30, 2014
And I took a photo of him taking a photo of us.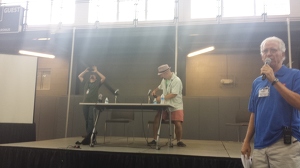 Scalzi and the introducer chatted for awhile about the new book and its themes, as well as about technology and scifi ("Scalzi hates fantasy") and other assorted things. I'm with Scalzi on description–I hate excessive description. This probably explains why I couldn't get into certain fantasy series.
A Q&A with the audience followed. People asked questions about his books and the process and the future of books. Scalzi revealed that he wrote the vast majority of one of his books in a three-week frenzy trying to meet a deadline. Sounds very Nano-esque to me.
It started to rain during the session, and hard. We all looked up while the rain pounded down on the gym ceiling, and I got nervous because guess who forgot an umbrella? Yep, this Sushi.
A signing followed the Q&A. The rain also lightened up and eventually stopped, which was very good for all of us carrying signed paperbacks into the great outdoors.
I finally got to the front of the line. "Hi, I'm Sushi. Good to meet you," I said.
Scalzi asked, "Have we met before?"
No, we hadn't, but for you to understand what was going on, a story is in order. A couple of weeks ago I was livetweeting my cousin's wedding. He was also livetweeting a wedding with some similar events like "Blurred Lines" playing, which led a few of my friends to think we were at the same wedding. Scalzi himself confirmed to @cosmam and me that there was no pool at his wedding, so alas, we were not in the same place at the same time.
So I told Scalzi this, which he remembered.
And because "pics or it didn't happen"…
BAM.
With that I walked outside, grabbed some dinner, and made myself into Java Monkey to write for awhile before going home.
What'd you do this weekend?